Charalampos Karagiannidis
Charalampos Karagiannidis is a member of SED-UTH since 2005, where he is currently a Professor in Information and Communication Technologies (ICT) Applications in Learning and Special Education.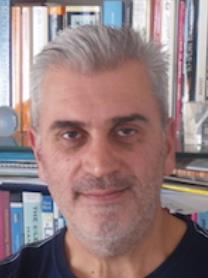 He holds a BSc in Mathematics from the Aristotelian University of Thessaloniki, an MSc in Information Technology from the University of London and a PhD in Electronics Engineering from the University of Kent, UK.
Ch. Karagiannidis has previously worked at the Department of Cultural Technology and Communication of the University of the Aegean, the Informatics and Telematics Institute of the Centre for Research and Technology – Hellas (ITI-CERTH) and the Institute of Computer Science of the Foundation for Research and Technology – Hellas (ICS-FORTH).
He has served as the Co-Editor of the Bulletin of the IEEE Technical Committee on Learning Technology and as a member of the programme and review committees of numerous international scientific journals and conferences, while he is also a BD member of the Hellenic Scientific Society for ICT in Education and Chair of the TeDISABLE SIG of the IEEE TCLT. During his career, Ch.Karagiannidis has published 140 papers with 1600 citations until 2019.