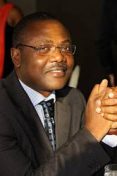 Université du Québec à Montréal, Canada
Roger Nkambou has been working in the field of intelligent tutoring systems and Artificial Intelligence in Education for more than 25 years. He has authored numerous peer-reviewed research papers and edited books in the areas of intelligent tutoring systems and artificial intelligence in education. His research interests include education data mining and machine learning, methods for learner modeling, and authoring tools for building ITSs. Dr. Nkambou is currently a Full Professor of Computer Science at the University of Quebec at Montreal, where he has chaired the Graduate Studies in Cognitive Computing for 5 years (2009-2013). He is the director of the Artificial Intelligence and Knowledge Engineering Research Laboratory (http://gdac.uqam.ca). He has supervised fifteen PhD thesis and more than forty Master thesis in the fields of ITS and AIED. His research is funded by the Natural Sciences and Engineering Research Council of Canada and the Fonds de recherche du Québec.
Dr. Nkambou is a member of the Steering Committee of the International Conference on Intelligent Tutoring Systems. He served as the General or Conference Chair of some major conferences including: the 25th WWW Conference (WWW2016), the 20th International Conference on User Modeling, Adaptation and Personalization (UMAP2012) and the 9th International Conference on Intelligent Tutoring Systems (ITS2008). He was the Organizing Co-Chair of the first Educational Data Mining conference (EDM2008). He also serves as a member of the program committee of premium international conferences in his field including Educational Data Mining, Artificial Intelligence in Education, and Technology Enhanced Learning.